Get to know your Smart Plug

The "O" in Deako on the front of the device will flash different colors through the setup process. Check out What does the colored light on my device mean? if you ever aren't sure what the device is doing.
Adding your plug to the Deako App
Before adding your plug to the app, confirm pressing the button toggles power to what you have plugged in. Once you've done that, check out Add a device to the Deako App for info on adding your plug to the app.
Troubleshooting your Smart Plug
If your Smart Plug is having any issues with Bluetooth or WiFi connectivity, first try power cycling the device by unplugging it, waiting a few seconds, and plugging it back in.
If at any point during setup you think you made a mistake or the plug is not doing what it is supposed to, you can factory reset the device and start over.
Factory reset a Smart Plug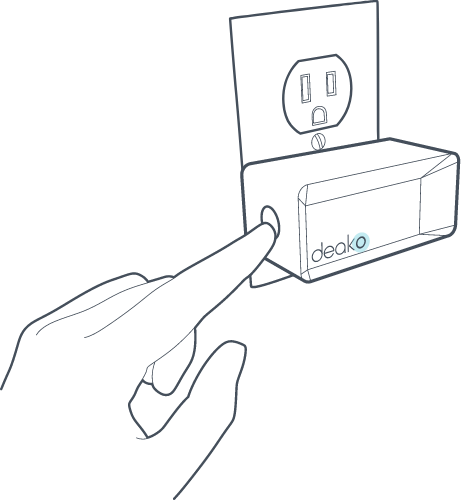 Hold down the button on your Smart Plug
Hold down the button until the indicator light (the O in Deako) is solid red, then release.
Wait until the O light turns off
The light will remain solid red for 3 seconds while the switch is factory resetting. The plug will then reboot (flash green) for a few seconds. Once the light is off, the plug has successfully reset. After resetting your Smart Plug, you will need to pair it to the Deako app once again.
Need help?
Contact us at support@deako.com. If the issue relates to your app, please also shake your phone and submit a bug report.