Important
This feature is only available for Smart Switches, Single Pole Smart Dimmers, Master Smart Dimmers, and Remote Smart Dimmers. To confirm your device is one of these, check the model number on the back of the switch. If the model number is DS2005, DS2010, DS2011, or DS2012 you're good to go!


This feature is available for version 1.24 or higher of the Deako app. To see what version of the app you're running, tap the gear-shaped icon on the top left of the main screen. You can update the app by searching for Deako in the App Store/Google Play Store and tapping Update.


Smart Switches and Smart Dimmers need to be on firmware version 3.12 and above to access this feature. Here's how to check the firmware version of your Smart Switch/Dimmer. If your device isn't on that firmware, power cycle the device and wait for a few minutes for it to update
What is Sunrise/Sunset?
Sunrise/Sunset is a setting in Schedules that allows your Smart Switches/Dimmers to turn on or off with the sunrise or sunset. Get a jump on the day or wind down with the sun!

What time does Deako use for Sunrise/Sunset?
This feature uses Civil Twilight - Sunrise is at the start of dawn and Sunset is at the end of dusk. This is the standard for sunrise/sunset features.
Create a Sunrise/Sunset Schedule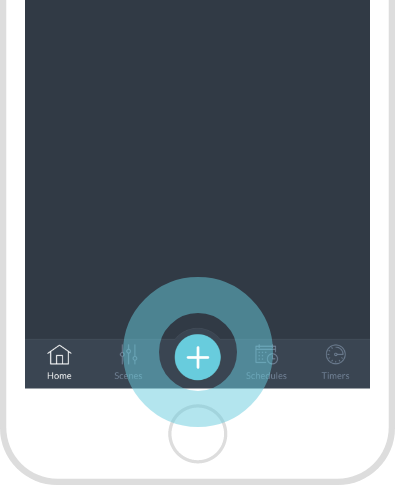 1. Open the Deako app, tap the "+" icon,


2. Select the Schedule icon then the light you'd like to schedule and whether you'd like it to turn on and/or off
You can select Sunrise/Sunset by tapping on the time display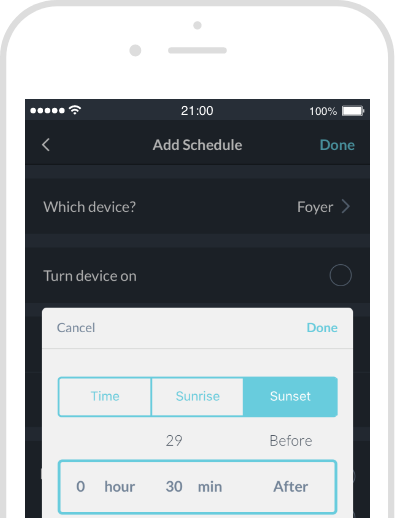 3. Set your light to either Sunrise or Sunset
You can choose at sunrise or sunset, or a time before or after.


Troubleshooting
Why don't I see the Sunrise/Sunset option on my Smart Scene Controller Switches/Dimmers?
Sunrise/Sunset is only compatible with Smart Switches and Smart Dimmers
Why is the app telling me the feature is unavailable for my Smart Switch?
Your Smart Switch may not be on the most recent firmware version quite yet. Smart Switches will automatically update, but power cycling the switch and waiting for a few minutes will prompt the switch to update